Round Trip Radio Flight 002
[ 45:03 ]
Play Now
|
Play in Popup
|
Download
(108)
Liner Notes
The second flight of Round Trip Radio was meant to be about Israeli hip hop, but we ended up digressing into beat making and funk music.  It's not meant to be a guide to the history and landscape of Israeli hip hop. Instead, it's a meandering stroll through the Israeli Indie scene.
Our journey started in August when we had the opportunity to meet with and see Cohenbeats at Silk City in Philadelphia.  Cohen mentioned an upcoming web release of his material on the Botanika label which led us to a conversation with Nadav Ravid of Botanika.  Nadav was about to release an album as Polar Pair, a project he has with Malkiel Grossman.  That turned us on to a lot of great artists affiliated with the Botanika label which might appear on a later podcast.  Khen Rotem AKA Sagol 59 was very friendly and shared some terrific insights from his long career in Israeli hip hop.  We're extremely happy that Isgav Dotan of Lucille Smokin Soul reached out to us to introduce us to what may be the best Israeli Indie music being made today.
Links to artists mentioned in this podcast: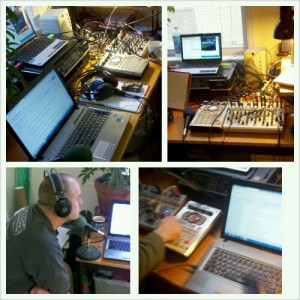 Cohenbeats
Cohen@Mushon – Tel Aviv
Sagol 59 – Westerns
Nati Hassid and Sagol 59 – Electric Relaxation
Ori Shochat – That Raw Shit
Botanika
Polar Pair – Ever Happy
Coolooloosh – Babe I'm Gonna Leave You
Lucille. Smokin' Soul – Deep In Da Mudd
Lunacidal Tendencies – Put Yourself First
The Lost Astronauts – Honey Bee
Here's the videos mentioned or played on this flight:
Thank You
Special thanks to all the artists that found the time to be interviewed for this show:
Michael Cohen from Cohenbeats and Cohen@Mushon
Isgav Dotan of Lucille. Smokin' Soul
Nadav Ravid from Botanika and Polar Pair
Khen Rotem AKA Sagol 59
A big thank you to the Round Trip Radio Team for their hard work and commitment:
Chip Karas – Co-Host and partner in crime
Itai Elitzur – Producer
Yechiel Gary Khillik G-Money Newman – Executive Producer
And a certain unnamed Dude who was drafted to be the Audio Engineer.