Lo Rotzim? Lo Tzarich!
Play Now
|
Play in Popup
|
Download
(127)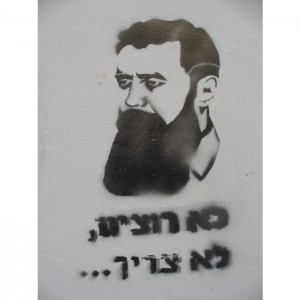 Lo Rotzim? Lo Tzarich! was originally made in 2009  to celebrate Israel's 61st birthday and the 100th birthday of Tel Aviv. In the 5 years that have passed since then, the artists on this mix have continued to grow and develop, and I've been along for the ride with them.
You can listen to the mix by clicking the play button above, or download the mix as a zipped file by clicking here.
Updated notes for 2014
I was introduced to Haim Laroz by former Philadelphian and current Tel Avivian Andrea Rosen.  Laroz is still involved with the music scene, working with people like Ravid Kahalani of Yemen Blues.  His extremely chill self titled 2001 album has a song called Laroz is a Rose, and I agree, he's a really sweet guy.
Karolina has put out a few albums since then, and I love them all.  She hasn't lost a step.  Here's a video from a recent, and rare, performance with the Kutiman Orchestra.
Polyanna Frank never did a Volume 2 for their awesome remix album Plastelina Volume 1.  If you're reading this, Polyanna Frank: get on it!
j.viewz is still doing great things. He had his album art nominated for a Grammy, one of his songs was used in a makeup commercial with Hallie Berry, he covered Teardrop by Massive Attack on vegetables, and turned rain into music.  Wonder what he's up to right now.
This song about a Shakshuka Shack was my way of shouting out Geulah of Cafe Ole In Philadelphia.  I randomly ran into her in Jaffa when we were both coincidentally in Israel at the same time.  We were right around the corner from Doctor Shakshuka, and  I told Geulah — and her relatives that were with her — that I prefer wait until I get back to Philly to eat her shakshuka.
I saw Eatliz at SXSW and had a chance to speak with them there.  Just the other day, I watched the video for Hey with my 20 month old.  She was mesmerized.  They are currently working on a new album.
Arik Einstein passed away this year.  Here's Round Trip Radio's salute to him.
This song got a particularly warm reaction from all the Jewish women.
I saw these guys live in summer 2013.  Totally awesome.  Their music is still a harsh critique on the realities of Israeli life.
The Ramirez brothers put out a great album in the past year.  Uzi Ramirez is working on his next solo album as well.
I saw these guys live in the north of Israel.  Their front man, Gilad Kahana threatened to expose himself and got into an argument with someone in the audience.  They are still putting out awesome music, and Gilad has some interesting stuff going on as well.
Itamar Ziegler has been living in New York for a while now, but his music is still Israeli though and through. I was a big fan of his self-titled debut.  His music has gotten deeper and darker since then.
The Apples continue to be one of my favorite bands.  I've bought each one of their albums as it came out.  I'm particularly into their 2010 release called Kings which features a collaboration with Fred Wesley on Side A, and Shlomo Bar on Side B. It's packed with funk and soul.
Coolooloosh played their final concert last month.  The band members have moved on to other projects, and I'm glad that I got to see them at least once while they were still in operation.  Their Elements of Sound album was recorded right here in Philadelphia.
Turns out I knew nothing about Johnny when I bought his CD.  He's currently working with Ivri Lider on a project called TYP (The Young Professionals). They have a great video out right now which looks and sounds like it was transported from the 80s.
Not sure what happened to psychedelic space rockers Lemmus Lemmus.  I'm still tripping on Chameleon Mood Swing.  If I didn't have the discs, I would think that the band was only a hallucination.
Yoni Rechter is  well known in Israel for his involvement with Kaveret, the iconic Israeli rock band from the 1970s. 40 years after the release of their first album, Kaveret got back together again for a concert in Tel Aviv's Yarkon Park.  Here's some pics from the show, taken by my friend Rand Snyderman, who photographed them then and now.
We use the beginning of this track as part of our opening montage on Round Trip Radio.
The Betty Ford Bar is no longer in operation.  It has gone the way of many of my favorites in Tel Aviv including Zinger and Cosa Nostra.   Luckily, Tel Aviv still has plenty of awesome venues where you can hear world class music.
Original 2009  liner notes for Lo Rotzim? Lo Tzarich!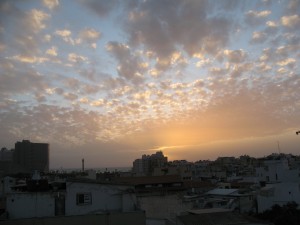 Last year there was a lot of hype over Israel's 60th birthday.  Now it's 61 years old, and love it, hate it, praise it, or criticize it as much as you want, it's here to stay.  At least for another year.  Hopefully more.
It's Tel Aviv's 100th birthday this year. To think that a century ago, Tel Aviv was just a crazy idea, and now it's the most populous city in Israel. I would also say that it's the most awesome city in Israel, particularly if you enjoy city life and staying out all night.  The picture on the album art is a graffito of Herzl, visionary of the Jewish State.  Anyone who's seen The Big Lebowski knows Herzl's famous quote about the possibility of a Jewish State, "If you will it, it is no dream." In the picture here, he says, "lo rotzim, lo tzarich…"  It translates as "you don't want?  you don't need!"  It's the kind of thing that an Israeli teacher might say to his class when they are acting up.  Kind of like, "if you don't want you recess, you don't need your recess!"  In this case, I think Herzl is saying this to a new generation of Israelis: You want to complain about the state?  You don't want a state?  Then you don't need one.
All the music on this album is made by Israelis or in Israel.  Most of the music on this mix is from the past three years, with a few notable exceptions.
Haim Laroz – Man A Kill Man (Kutiman RMX) (Laroz Restars, 2008) I've had the original mix of this song for a few years.  Haim Laroz is one of the best dub reggae producers in Israel or anywhere else in the world.  This past winter I bought an album called "Laroz ReStars" which is his "Laroz All Stars" remixed.  While the original mix of this sounds more like Lee "Scratch" Perry, this remix  by Kutiman sounds like it just fell out of Bob Marley's ashtray.
MC Karolina – Lion (Funset, 2005) It's always a party with Karolina.
Dana Berger – Learning to Fly (Pollyanna Frank Remix) (Plastelina Vol. 1, 2003)  I had a hard time choosing which track I wanted to take off the Plastelina Vol. 1 CD which has remixes of Israeli songs by Pollyanna Frank.  I ended up with Dana Berger, of all people, whose music usually reminds me of a watered down Fiona Apple.  But this track is a lot of fun.
j.viewz – Smooth Criminal (The Besides EP, 2008) I'm a big fan of j.viewz, but you know this!
Itamar Ziegler – Jimi Stack Shakshooka Shack (Itamar Ziegler, 2005) This is dedicated to Cafe Ole on 3rd between Race and Arch in Philadelphia.  They make the best shakshooka anywhere.  Seriously.  Last time I was in Tel Aviv, I passed on a subpar shakshooka on my last day there, with the intention of getting a better one in Philly.
Eatliz – Attractive (Violently Delicate, 2007)  I got this album from the station manager at Kol Hacaumpus http://www.106fm.co.il. It's my favorite station in Israel.
The High Windows – Yekhezkel (The High Windows, 1967)  This is about the prophet Ezekiel.  He saw some real trippy stuff: dry bones getting covered with flesh and coming to life, two sticks merging into one, and a god coming down from heaven on a chariot with four headed animals pulling it.
Panic Ensemble – Jewish Women (Panic Ensemble, 2008)  "They always do it/these Jewish women/cut off your head and celebrate."  At the end of the song she starts muttering in Yiddish.  Sounds appealing but I'm not sure what she's talking about.
HaBiluim – Clone in G7 (Sheol Vekishalon, 2007) This track starts with a Yiddish radio broadcast from the 6 day war in 1967.
The Ramirez Brothers – Taltalim (The Ramirez Brothers, 2009)  I just missed these guys concert by a day when I was last in Tel Aviv. Some of the members of The Apples are in this band.
Girafot – Yesh Lo Bachurot Kmo Mayyim (Chatting With The Chair, 1999) This song can get any bar full of Israelis on their feet.  I could have picked something from their 2006 release, but over passover, I had this song on my mind, particularly when drinking arak with my father.
Itamar Ziegler – Arabic Surf Dance (Itamar Ziegler, 2002) This song has a great tempo.
The Apples-Kol Ha Yom Ba Halal-Buzzin' About-2008 The title of this song means "All Day in the Spaceship."
Coolooloosh-Untill The Day-Elements of Sound-2008  Could have picked about five tracks from this album.  I chose this one because of the cities shouted out at the end of the song.
Johnny-Chicka Virtualit-The Johnny Show-2008 This album was made by a teenager who collaborated with some of the best artists in Israel.  This track is very cute: he's singing about his virtual chick.
Lemmus Lemmus-Tame of the Shrew-Lemmus Lemmus-2008 Pink Floyd forgot to record this on Piper At The Gates of Dawn.
Yoni Rechter-Quiet From The Road-Fourteen Octaves-1975 Israeli blues.
Gary Eckstein-Coffee House Blues (Live in Neueba)-Off The Air-1978 Even more Israeli blues.
Pollyanna Frank-Sentimental Instrumental-Betty Ford Bar 5 Year CD-2007 Betty Ford is a bar in Tel Aviv.  For their fifth year, they put together a mix cd, which is solid end to end.  Seriously.  You should think of picking it up.  It's all good.